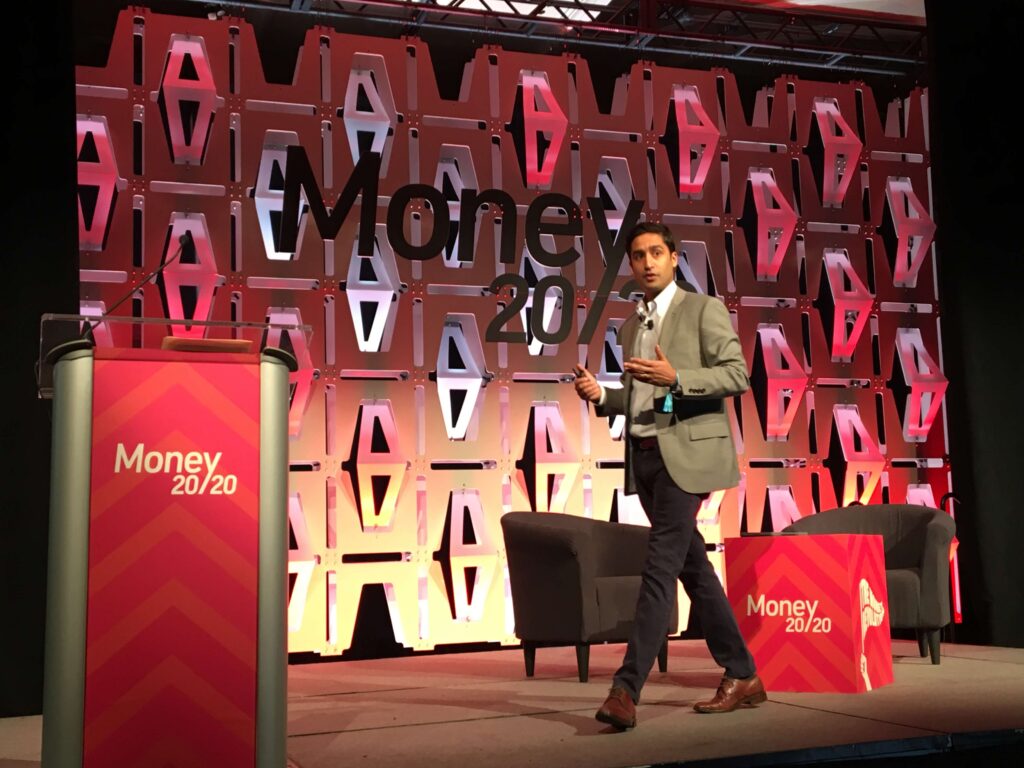 Last month, I had the privilege of chairing Money20/20's first Fintech for Social Good track (video of my presentation can be found here). It was encouraging to see that the financial industry's top thought leaders and disruptors recognize the crucial role fintech can play in building a better world. Currently, there are 3 billion people globally who have little to no access to financial tools that could improve their lives. But the reach of technology is outpacing the reach of financial services — mobile and internet access are streaming into communities that were previously left behind. Inclusive fintech can make a massive difference.
As I listened to speakers from every part of the industry, I was struck once again by how invaluable innovators are for making sure tech can reach its potential for social good. If technology is the key to unlocking financial inclusion, innovators are the ones with the power to turn the key. For fintech to make a real impact, we need innovators who are taking technology and actually making it work for low-income individuals and small businesses.
Who will drive the fintech revolution?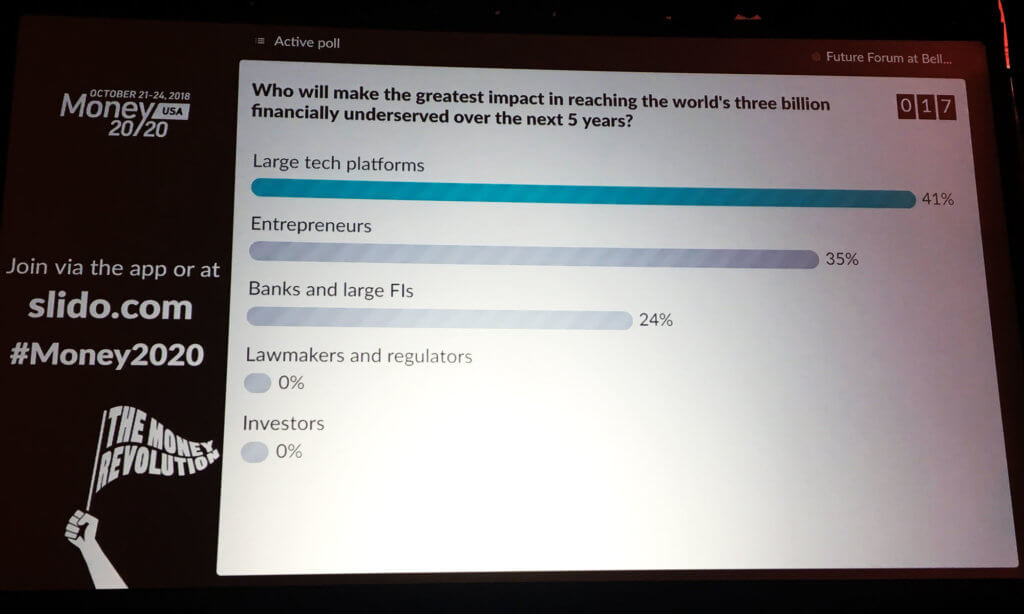 Innovators in inclusive fintech come in various forms. I took the opportunity to poll the Money20/20 audience to find out which players people expect to drive social impact. I wasn't surprised to see large tech platforms come out on top. One overriding theme throughout the day was that large tech platforms are best positioned to drive change in the industry — they have the infrastructure, access point, data, and strong brands on their side. We've already seen examples of this, such as how WeChat and Ant have helped drive mobile money usage in China. As the massive global tech platforms continue to establish their role as key — if not primary — players in the financial services space, I expect we will need to talk a lot more about how issues like privacy and data ownership inform the decisions those companies make. With great power comes great responsibility.
Even as tech giants take the spotlight, it's heartening to see that people surveyed still have high hopes for entrepreneurs and financial institutions to leverage fintech for social change. At Accion Venture Lab, we've invested in nearly 40 early-stage fintech startups, so I may be biased when it comes to entrepreneurs and the power they have to make an impact — I've seen firsthand what talented entrepreneurs can accomplish. But I've also seen how critical it is for these entrepreneurs to partner with established banks. I have no doubt that both parties will play a crucial role in building a better future for the world's financially underserved.
When it comes down to it, it's going to be a group effort to drive real social change. Disrupting and implementing fintech solutions takes a supportive enabling environment as well as innovators working in the trenches. To scale at a level to reach the vast underserved population, the entrepreneurs behind fintech solutions need capital from investors, but they also need a regulatory environment that welcomes innovation, and they need large players like banks, tech platforms, and payment companies as partners, infrastructure providers, and customers.
What tech will make inclusion possible?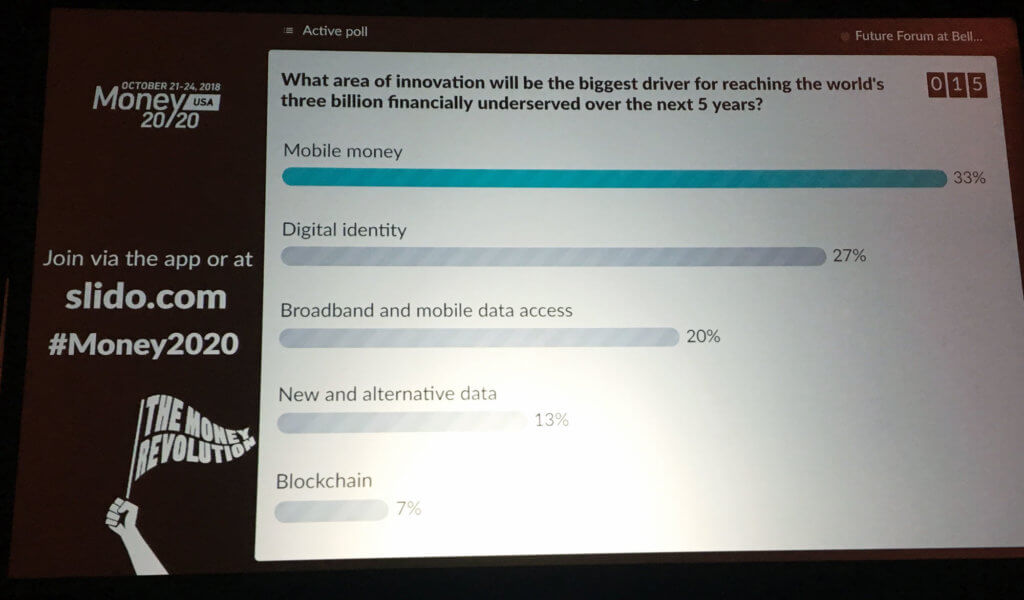 I also polled the audience about what standout tech innovation has the potential to really drive service to the world's underserved, and it was clear that there's still optimism that mobile money can provide the infrastructure for inclusion. We've certainly seen this ring true for the companies we work with. In Kenya, Apollo Agriculture uses satellite data to provide farmers with the inputs that they need to succeed, and their clients can easily pay for the service using mPesa. In India, Smartcoin operates their whole individual lending process within their smartphone app, including collecting payments digitally using UPI.
Digital identity's second-place finish is well-deserved. More than 1 billion people have no formal identity, and a lack of identification is a crucial factor that has prevented too many people from accessing financial services, so digital identity opens new avenues to allow people to prove who they are and receive financial services they were previously denied.
Perhaps one of the most exciting parts of the fintech revolution that's currently underway is that there is still new tech waiting to be developed and new innovators ready to enter the ring and push it forward. We'll continue to watch for the next innovations that expand access, improve quality, and ensure affordability of financial services for the underserved at scale.