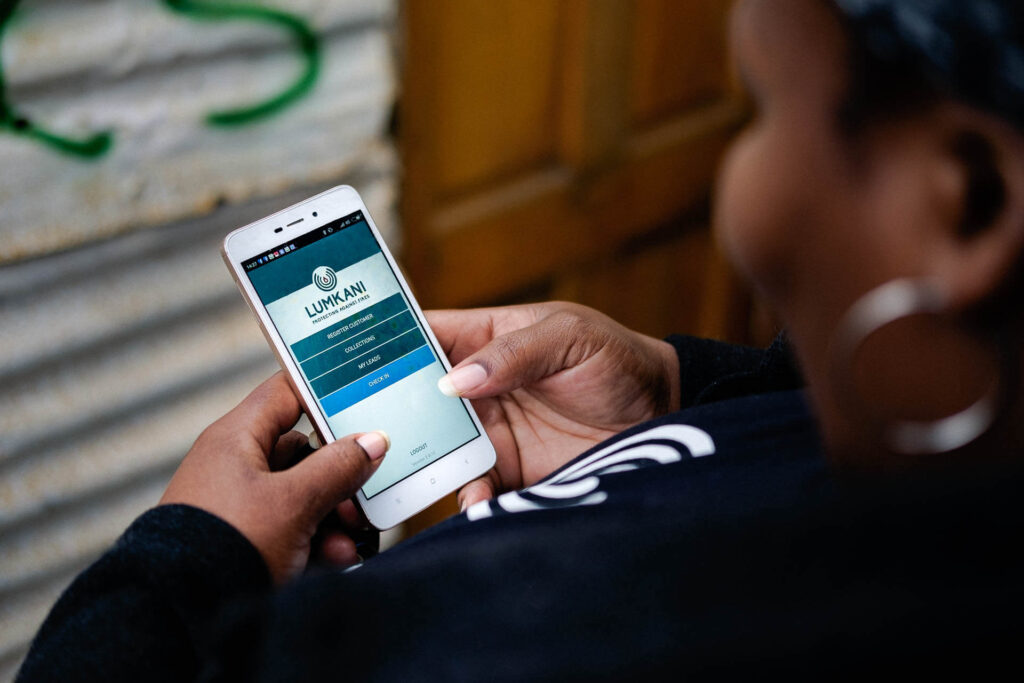 Photo caption: Lumkani combines local knowledge and advanced tech to provide fire protection in South Africa.
When you grow up in a community, you understand it on a deeper level. You get to know the families next door, the businesses that work nearby, and the habits that characterize daily life.
For the last five decades, Accion has worked with over 110 partners in 50 countries, and in every instance, we've relied on our partners' deep local knowledge of the needs, desires, and habits of their neighbors and clients. We may know something about global trends and innovations, but it takes a partner on the ground to help us tailor those products and services to meet the needs and solve the real challenges of our clients.
Increasingly, businesses are exploring how diverse perspectives and local insights like these drive innovation. In the introduction to The CEO's Innovation Playbook, a report from Mastercard and Harvard Business Review Analytic Services that guides leaders to spark change, Ajay Banga writes that when an organization brings diverse insights and experiences together, it "end[s] up with a collective perspective that is both broader and deeper than any one perspective could be on its own."
That's why we work alongside leaders like these: they've grown up in the communities that they serve, know what problems must be addressed, and understand the differences that inclusive financial services can make.
Using AI, remote sensing, and automation to protect smallholder farmers
After growing up on a farm in Kenya, Thomas Njeru understood why so many of the world's farmers are just one drought or disease away from devastation. "I remember during a drought year, some of my friends dropping out of school — they could not come to school hungry, and their parents could not pay the school fees. The majority of families in Africa are faced with the same precarious reality." That motivated him to create Pula with co-founder Rose Goslinga, which uses technology to provide smallholder farmers agricultural insurance and uses satellite data to help its clients gain higher crop yields. By combining artificial intelligence, mobile registration, remote sensing, and automated tools, Pula's annual insurance premium costs farmers about $3 to $5 and helps them protect their crops and their livelihood.
Tapping into an Indian tradition to support small businesses
Growing up, Neeraj Bansal watched his entrepreneur father struggle to obtain capital and sustain his businesses. He also saw how India's chit funds — traditional lending groups similar to ROSCAs — used social trust and local knowledge to provide credit to entrepreneurs when banks wouldn't. Today, India is home to roughly 5 million chit funds, some of which have been operating for years. They represent a wealth of high-quality user data that banks had overlooked. Neeraj co-founded CredRight to tap that information to help India's micro, small, and medium enterprises (MSMEs) get the funding they need. By partnering with chit fund representatives and accessing member data, CredRight evaluates borrowers' creditworthiness to provide MSMEs with inclusive finance quickly and inexpensively.
Helping people in informal settlements through insurtech
In South Africa, approximately 1 in 7 families lived in informal settlements in 2016. In those communities, fire safety is a significant concern: between 2015 and 2016, fires killed 32 people and damaged nearly 4,000 homes. After working on a solution to this issue while at Cape Town University, Francois Petousis, David Gluckman, and Paul Mesarcik co-founded Lumkani to keep more South Africans safe. Lumkani provides residents in South Africa's informal settlements with fire insurance and an internet-connected heat sensor that notifies all users if a fire is detected nearby. Eighteen months after launching, Lumkani demonstrated that, in 73 percent of cases, its technology helped prevent fires from spreading beyond the first home.
Keeping corner stores stocked in Mexico and Peru
Neighborhood stores, or tiendas, are fixtures throughout Latin America. They're essential for the people who live nearby as well as their local economies. But many of these mom-and-pop shops can't get the financing they need to restock their shelves with snacks, drinks, and other goods when they need them. Dan Cohen helped create a company that solves this problem for storeowners and the vendors they work with: Tienda Pago provides entrepreneurs across Mexico and Peru with short-term working capital loans to purchase high-demand items. The company uses supply chain data to finance inventory payments, paying fast-moving consumer goods (FMCG) distributors directly; the distributors then deliver those supplies to the storeowners, who repay Tienda Pago via an electronic mobile payment platform.
Local needs and global goals
By living and working with their clients, these innovators developed new solutions that address specific needs from the ground up.
We should cultivate and support local innovation wherever we can: Amazon, Ant Financial, Facebook, GOJEK and Grab, Uber, and many others are developing global super platforms that can immediately reach billions of people who have been left out of the formal financial sector. But to make the most of their platforms, these players should listen to and work with people already driving innovation in communities across the globe. These innovators know what it means to understand and address the fundamental, immediate human needs of the world's underserved communities, including education, food security, home safety, and expanded economic opportunity.
When fintech innovation meets these needs, it makes an immediate impact on people's lives, but it also has long-term effects for families and communities. From ending hunger to achieving gender equality to promoting economic growth, financial inclusion is an enabler in more than half of the UN's Sustainable Development Goals.
That's why supporting local innovation matters — because by understanding the unique needs of people in each market and creating solutions that fit their lives, we can finally build a safer, more equitable world for everyone.