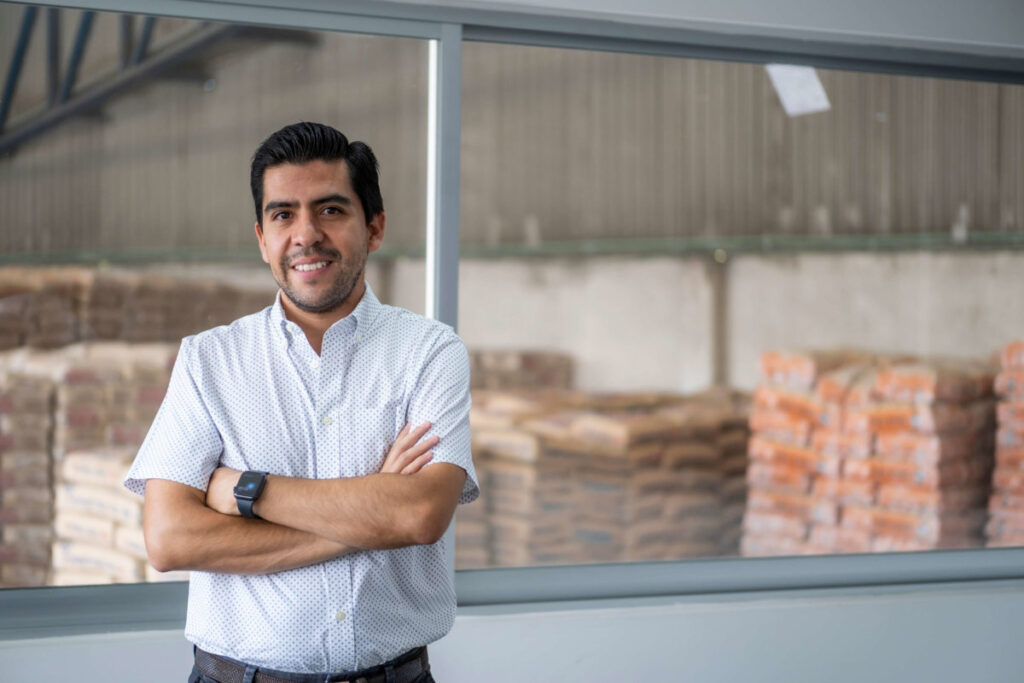 Francisco Romero Heda is the second-generation owner of Deposito San Francisco. His father started the business in Querétaro, Mexico over 40 years ago, and Francisco hopes to pass the business onto the next generation of his family 40 years from now. He sells construction materials to large distributors and construction firms, as well as to small businesses and individual contractors. Like many business owners, Francisco found that cash became tight during the pandemic and noticed that many of his customers have struggled with cashflow. He knew that he was losing sales because his customers needed credit to purchase materials for their projects, but his business lacked the liquidity and ability to provide it.
Cashflow constraints are particularly challenging in the construction industry. Contractors are expected to source and purchase materials to get their work done, but they often only get paid after completing their projects. They may receive a small deposit at the outset, but most must finance supplies and labor themselves, so they seek credit from the shops and distributors where they purchase materials. This need for liquidity stretches across the value chain and especially disadvantages small business owners who lack the cash to buy supplies upfront or extend credit themselves. Though small contractors and construction businesses may be well established, they tend to be small and aren't an attractive customer segment for traditional banks.
"My greatest satisfaction is helping entrepreneurs get the tools they need to get one step closer to their dreams for their businesses."
Caja Bienestar seeks to serve exactly this segment of small businesses, those unserved by traditional banks. As Manager of Institutional Sales, Elias Nahmad Buenfil notes, "We know them and trust them, and can provide a differentiated analysis to give them access to opportunities they don't have today." For over 25 years, Caja Bienestar has found creative, innovative ways to extend financial services to businesses and individuals in Querétaro. They've especially focused on serving new entrepreneurs, from small manufacturers to caterers cooking in home kitchens to large firms, that traditional banks overlook. "We are more people-oriented. We don't just look at profit margins, but also the entrepreneur, their plans, and the overall growth of the sector," says Elias. The work is rewarding for Elias and his team: "Today, I can tell you that my greatest satisfaction is helping entrepreneurs get the tools they need to get one step closer to their dreams for their businesses."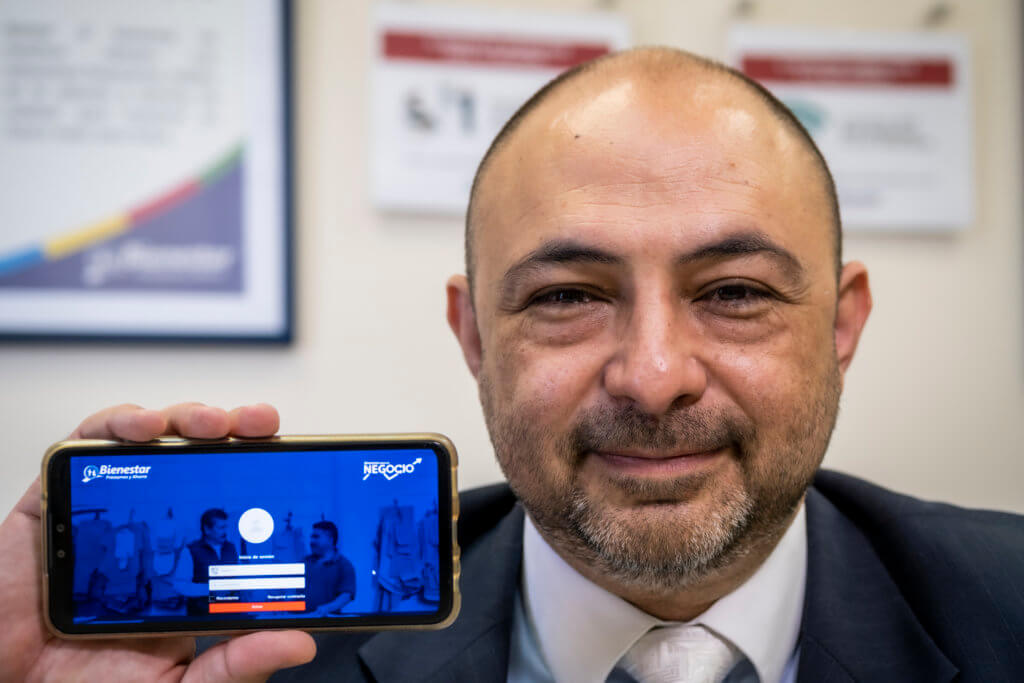 Together with Accion's Global Advisory Solutions and with support from MetLife Foundation, Elias and the Caja Bienestar team realized that distributors like Francisco are an untapped source of intelligence about small businesses in the construction sector that need credit. Over the years, Francisco and his team have accumulated many customers and have even provided some with materials on credit. In other words, Francisco's customer records are functionally a credit and work history for many small construction businesses.
Caja Bienestar is now working hand-in-hand with Francisco and his team to offer credit to contractors and other customers so they can get the supplies they need to complete jobs that they may otherwise have to turn down. When customers come to buy supplies from Francisco, they can apply for credit from Caja Bienestar. Bienestar developed a tailored credit-scoring methodology for these small businesses by leveraging Francisco's experience with them. The two teams work in close partnership to understand customers' financing needs, assess their creditworthiness, and deliver products in a timely manner.
With financing, the entrepreneurs can purchase the supplies they need at affordable rates, and Francisco doesn't have to worry about extending credit from his balance sheet. The arrangement frees Francisco to focus on sales and distribution, while Caja Bienestar takes on the burden of credit evaluation and collections and carries the risk of non-payment. "It is a great relief not to worry about collections and administration of credit now that Bienestar takes on that part of the work, analyzing the clients and carrying the risk. We can focus on selling and serving our clients," says Francisco.
As Francisco notes, the goal of the partnership with Caja Bienestar is not just to deploy credit and sell materials; the objective is to help small business owners get the resources and information they need to grow their businesses. "The issue of credit is extremely complicated that can easily harm rather than help clients, so we handhold and advise them to ensure they see the benefits in their own business." With the Bienestar partnership, clients can grow and develop their businesses via a relationship they already know and trust. He says, "We aim to go beyond getting our customers the materials they need. We also want to help with their capacity to get other important resources like financing, so that we can grow together."
He notes that the collaboration creates a virtuous circle by creating benefits for his business, his customers, and their families and communities. Francisco believes this partnership can help his business achieve more and for more; "We are just scratching the surface with our Bienestar partnership. We have the capacity to sell, allocate, and reach even farther, to create a more inclusive economy and a world of opportunities for all."
---
Emprendedores mexicanos están un poco más cerca de lograr sus sueños
Francisco Romero Heda es el propietario de segunda generación de Depósito San Francisco. Su padre inició el negocio hace más de 40 años en Querétaro, México, y Francisco espera pasar el negocio a la próxima generación de su familia dentro de 40 años. Vende materiales de construcción a grandes distribuidoras y empresas constructoras, así como a pequeñas empresas y contratistas individuales. Como muchos dueños de empresas, Francisco descubrió que su liquidez se redujo durante la pandemia, y notó que muchos de sus clientes también tenían problemas con el flujo de caja. Sabía que estaba perdiendo ventas porque sus clientes necesitaban crédito para comprar materiales para sus proyectos, pero su negocio carecía de liquidez y capacidad para proporcionarlo.
Las restricciones de flujo de caja son particularmente desafiantes en la industria de la construcción. Se espera que los contratistas consigan y compren los materiales para realizar sus trabajos, pero a menudo solo se les cancela luego de completarlos. Puede que reciban un pequeño adelanto al comenzar, pero la mayoría debe financiar los suministros y la mano de obra por su cuenta, por lo que buscan crédito en las tiendas y distribuidores donde compran los materiales. Esta necesidad de liquidez se extiende a lo largo de la cadena de valor y perjudica especialmente a los propietarios de pequeñas empresas que carecen de fondos para comprar suministros por adelantado, u otorgar crédito directamente. Aunque los pequeños contratistas y las empresas de construcción pueden estar bien establecidos, tienden a ser pequeños y no son un segmento de clientes atractivo para la banca tradicional.
"Mi mayor satisfacción es ayudar a los emprendedores a obtener las herramientas que necesitan para acercarse un poco más a lo que sueñan para sus negocios".
Caja de Ahorro Bienestar busca atender precisamente a este segmento de pequeñas empresas: aquellas que no cuentan con el servicio de los bancos tradicionales. Como gerente de ventas institucionales, Elías Nahmad Buenfil señala, "los conocemos y confiamos en ellos, y podemos llevar a cabo un análisis diferenciado para darles acceso a las oportunidades que hoy no tienen". Durante más de 25 años, la Caja ha encontrado formas creativas e innovadoras de ofrecer servicios financieros a empresas y particulares en Querétaro. Se han centrado especialmente en atender a nuevos empresarios, desde pequeños fabricantes hasta empresas de catering que cocinan en casa para grandes empresas, pero que los bancos tradicionales pasan por alto. "Estamos más orientados a las personas. No solo estudiamos los márgenes de ganancia, sino también al emprendedor, sus planes y el crecimiento del sector en general", dice Elías. Este trabajo le resulta gratificante, así como a su equipo: "hoy les puedo decir que mi mayor satisfacción es ayudar a los emprendedores a obtener las herramientas que necesitan para acercarse un poco más a lo que sueñan para sus negocios".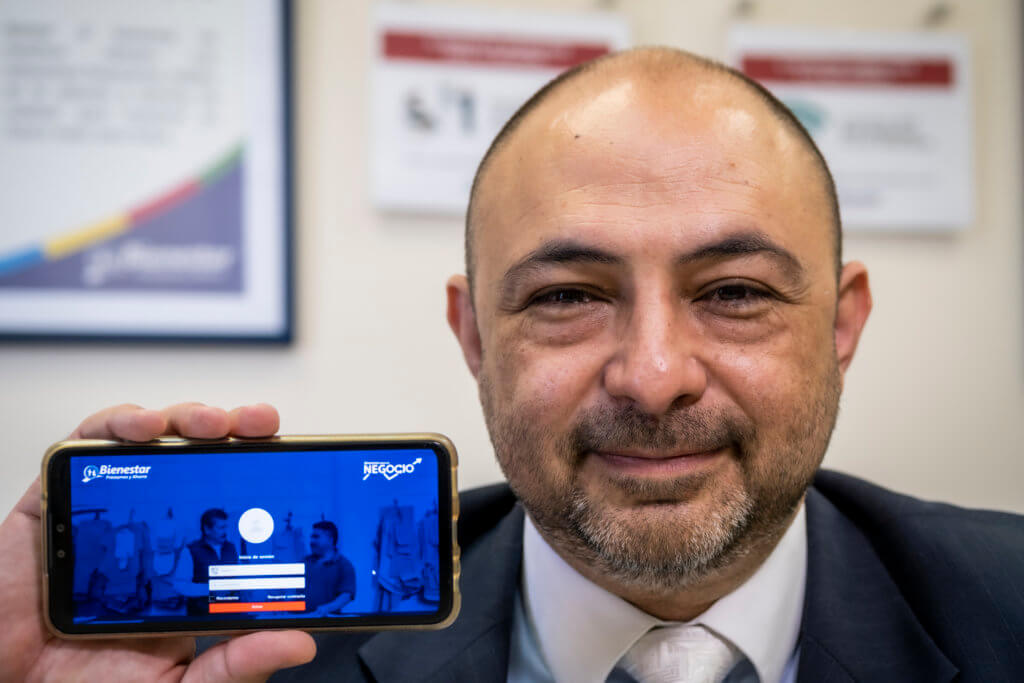 Junto con Global Advisory Solutions de Accion, y con el apoyo de MetLife Foundation, Elías y el equipo de Caja Bienestar se dieron cuenta de que los distribuidores como Francisco son una fuente de inteligencia inexplorada sobre las pequeñas empresas del sector de la construcción que necesitan crédito. A lo largo de los años, Francisco y su equipo han atendido a muchos clientes, e incluso les han proporcionado materiales a crédito. En otras palabras, los registros de clientes de Francisco son en la práctica un historial crediticio y laboral sobre muchas pequeñas empresas de la construcción.
Caja Bienestar ahora trabaja codo a codo con Francisco y su equipo para ofrecer crédito a los contratistas y otros clientes para que puedan obtener los suministros que necesitan para realizar trabajos que de otra manera tendrían que rechazar. Cuando los clientes vienen a comprar suministros a Francisco, pueden solicitar un crédito de Caja Bienestar. Bienestar desarrolló una metodología de calificación crediticia a la medida para estas pequeñas empresas, aprovechando la experiencia de Francisco con ellas. Los dos equipos trabajan en estrecha colaboración para entender las necesidades financieras de los clientes, evaluar su solvencia y entregar productos de manera oportuna.
Gracias al financiamiento, los empresarios pueden adquirir los suministros que necesitan a precios asequibles, y Francisco no tiene que preocuparse por otorga créditos con fondos propios. Este arreglo libera a Francisco para que se concentre en las ventas y la distribución, mientras que Caja Bienestar asume la carga de la evaluación crediticia y los cobros, y asume el riesgo de impagos. "Es un gran alivio no tener que preocuparme por las cobranzas y la administración de los créditos ahora que Bienestar asume esa parte del trabajo, analizando a los clientes y asumiendo los riesgos. Podemos enfocarnos en vender y atender a nuestros clientes", dice Francisco.
Tal como señala Francisco, el objetivo de la asociación con Caja Bienestar es no solo el de otorgar créditos y vender materiales; es también el de ayudar a los propietarios de pequeñas empresas a obtener los recursos y la información que necesitan para hacer crecer sus negocios. "El tema del crédito es extremadamente complicado y puede terminar perjudicando a los clientes en lugar de ayudarlos, por lo que los apoyamos y asesoramos para asegurarnos de que sus negocios se beneficien". Gracias a la asociación con Bienestar, los clientes pueden crecer y desarrollar sus negocios a través de una relación que ya conocen y en la que confían; y agrega: "nuestro objetivo es ir más allá de proporcionar a nuestros clientes los materiales que necesitan. También queremos ayudarles con su capacidad para conseguir otros recursos importantes como el financiamiento, para que podamos crecer juntos".
Señala que la colaboración crea un círculo virtuoso al generar beneficios para su empresa, sus clientes y sus familias, y las comunidades. Francisco cree que esta asociación puede ayudar a su empresa a lograr mucho más; "Estamos apenas arañando la superficie con nuestra asociación con Bienestar. Tenemos la capacidad de vender, asignar y llegar aún más lejos, para crear una economía más inclusiva y un mundo de oportunidades para todos".