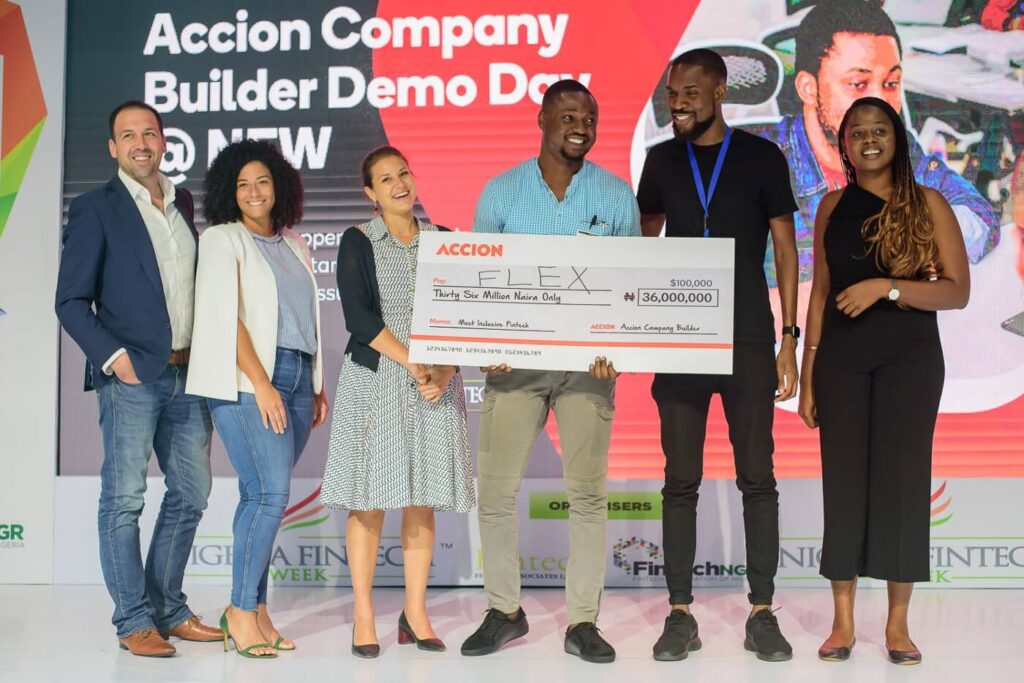 Last November, we wrapped up the second cohort of Accion Company Builder, our Lagos-based, fintech startup builder program that brings together promising entrepreneurs to co-create inclusive fintech startups from scratch in Nigeria. During the program, participating entrepreneurs worked together to understand financially underserved Nigerians' aspirations and challenges, generate business models to address those issues, and collaboratively validate their solutions in the field with real customers. In the end, Flex Finance won the competition along with $100,000 in funding and technical support from Accion Venture Lab.
Flex Finance launched with a vision of helping micro, small, and medium enterprises (MSMEs) become smarter and more profitable through an easy-to-use app that helps businesses budget, track expenses, and more. These businesses already faced challenges staying afloat and growing, and then a global pandemic hit — along with widespread lockdowns — and now MSMEs need help more than ever to run efficiently and build resilience.
I recently caught up with Yemi Olulana, founder and CEO of Flex Finance, to learn a little bit more about how Flex has developed since Company Builder, what it's like to launch a company in the midst of an unprecedented global crisis, and the future of supporting small businesses in Nigeria.
Q: Yemi, congrats on winning Company Builder! Tell us a bit more about how you started Flex Finance.
A: Flex came out of an in-depth problem identification process that took place during the Accion Company Builder program last year. I had always wanted to build a solution to solve a major problem for MSMEs.
And the problem-finding process the Company Builder program took us through made me ask the right questions. While embarking on the problem identification journey, we applied the various interview techniques taught in the program, my favourite being "jobs to be done", and need I say…it really got the job done. This technique helped greatly in preparing us to spot problems and not just seek validation for my preconceived ideas. Through that process, I got answers that gave me insights into MSMEs' day-to-day challenges, and I discovered how managing expenses was such a big struggle for them.
My discovery was further substantiated by a statistic from the Central Bank of Nigeria that says over 50 percent of MSMEs die before their third birthday, and poor expense management is the major culprit. And with that, Flex was born.
Q: Flex is designed to serve MSMEs. What are some of the challenges they face that you want to solve?
A: Financial management is a huge struggle for MSMEs, and existing solutions like accounting software are inadequate for a few reasons.
For one, these MSMEs mostly use smartphones for their daily operations, and most existing solutions do not provide mobile-first financial management apps and require them to use a laptop or a computer. Also, many of these solutions are too expensive for most MSMEs.
There's also a financial literacy gap: Roughly 20 percent of MSMEs don't have a basic understanding of savings, debt, and budgeting, so there is a large exclusion of this critical segment from necessary financial management tools.
Flex was created to help all MSMEs tackle these challenges by providing them with an easy-to-use solution, to help them manage their expenses — even if they're not financially literate. Ultimately, we're helping more MSMEs become sustainable for years and years, and enhance their access to critical financial services like loans and insurance so they continue to provide the jobs and income that sustain the vast majority of Nigerians.
Q: Tell us about one of your customers and how they're using Flex.
A: Kaizen Pharmacy is based in Lagos, where they are licensed to sell various pharmaceutical products to the general public.
While interviewing the owner, she complained about how she gets frustrated every end of the month when closing her books because she often only then discovers she has overspent her budget. She also shared how she had made several attempts to track her expenses with a notebook and accounting software and remarked on being overwhelmed and confused by the software. The absence of the convenience of doing all these activities from her smartphone came up, too. For her, using paper has proved to be highly unreliable.
With Flex, all the aforementioned problems go away because not only are we easy to use, we provide real-time insights to MSMEs to show them how their spending is going against their budgets.
Q: We're in a challenging period, with COVID-19 having an unprecedented effect on businesses and their customers. How can Flex help in this time of need?
A: Many businesses will be going remote for the first time and a lot of the inefficiencies and manual systems that are heavily reliant on human physical contact will become evident.
To make matters worse, a directive by the Central Bank of Nigeria suspending the clearing of checks — the primary mode these businesses settle payments and expenses — during the lockdown of some states to enforce social distancing. The directive added an extra thick layer of difficulty to businesses managing their already chaotic expense tracking, littered with many paper trails and irreconcilable accounts. This situation has made business owners desperate for alternative digital mediums to sort payment and track expenses.
In these challenging times, businesses are relying on Flex to maintain control and monitor distributed spending in the wake of this sudden change. Flex gives them an even greater level of oversight on their expenses. Flex empowers now-remote employees to make expense requests conveniently from their mobile device while also allowing business owners to reject or approve digitally, as well as disburse payments.
Proper digital financial management has become critical to the survival of businesses during this period and Flex is here to help businesses stay alive and make it easy to track all their expenses.
Q: And how about your team? How have you changed your operating approach, customer engagement, or other tactics?
A: The health and safety of our team is our highest priority, and we have put measures in place to ensure we provide a conducive work environment, regardless of what may come in the following months. We have taken adequate steps to make sure our work environment is safe by providing hand sanitizers and ensuring the workspace environment is cleaned with disinfectants.
We have ensured all team members are well-equipped to work remotely. Before the sudden lockdown, we had taken the initiative to run weekly remote working tests to get every member of the team comfortable with working from their homes. And, all scheduled usability testing sessions have been structured to work virtually.
Q: Looking ahead to the future, where would you like Flex to be?
A: In a year we want to be the go-to app for Nigerian MSMEs to manage all their expenses. We want to be the reason business owners worry less about their expenses and entrust their expense management to us.
From a company perspective, within the next year we want to have gathered deeper insights into our customer base and develop a close relationship with our customers' needs, enlarge our user base, and scale our team.
Q: What is the biggest thing you learned during the Company Builder program?
A: I would say product-market fit. A great deal of time was spent expounding on this topic, and it helped me while iterating our product. The pricing classes were so expository and have been very helpful in pricing our product with consumers.
Q: Final question: Next time I visit Lagos, where's the first place I should go to eat when I leave the airport?
A: I would say Ofada Boy, and you should try their Ofada rice. It's really delicious; it'll be my treat next time you're in town!