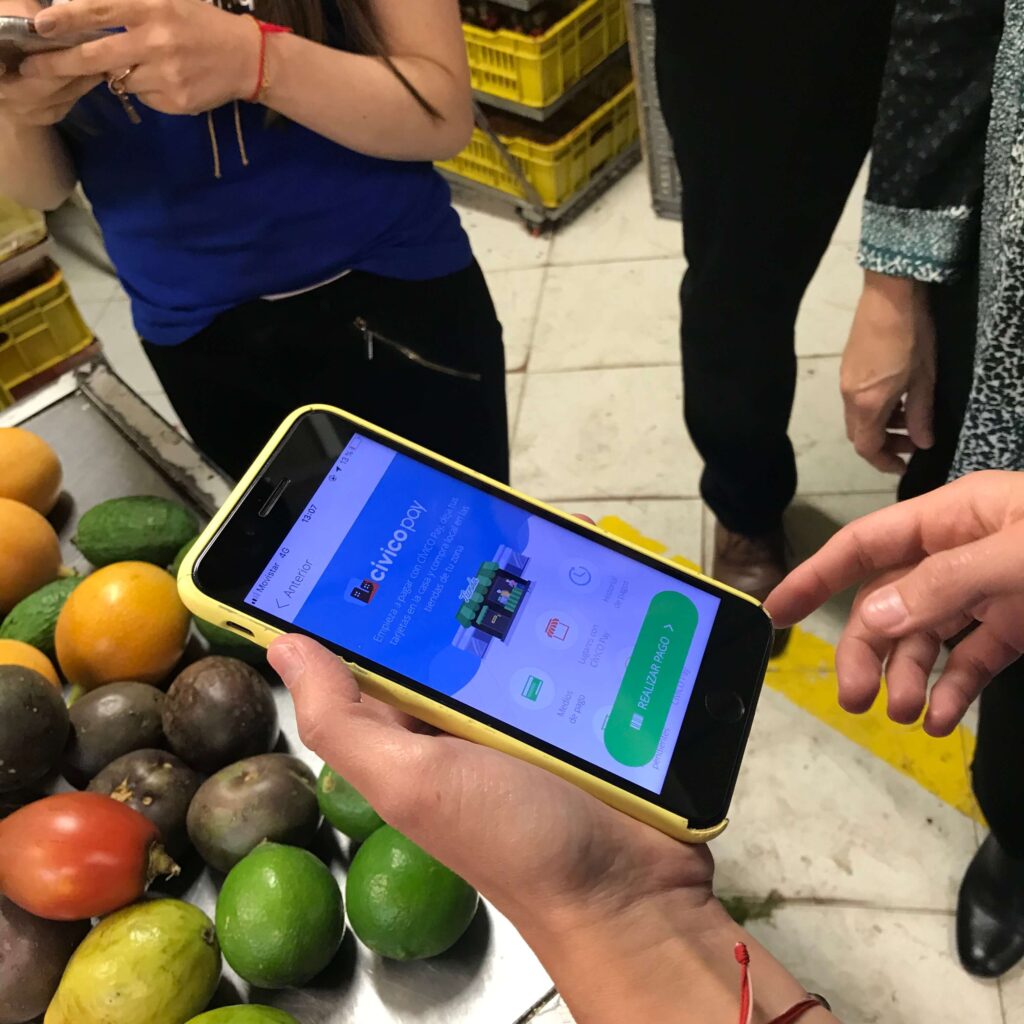 The COVID-19 pandemic is going to accelerate innovations in unheard-of ways. The old adage, necessity is the mother of invention, is particularly apt right now.
The pandemic has already severely affected the global economy. In most countries across the globe, it has disrupted production, diminished demand for many goods and services, broken supply chains, and forced enterprises to suspend or scale down operations. Micro, small, and medium enterprises (MSMEs) are particularly vulnerable to these challenges since they tend to have fewer assets, a reliance on in-person transactions, and more limited cash reserves than larger businesses.
The ILO reports that more than four out of five people in the global workforce of 3.3 billion are currently affected by full or partial workplace closures. McKinsey estimates that 50 million informal sector jobs across Africa — in sectors like wholesale, retail, trade, and manufacturing — are vulnerable to economic shocks from the pandemic. According to a BCG report, as of April 8, more than 90 percent of on-premise food service MSMEs in Colombia, 70 percent in Brazil, and 30 percent in Mexico have closed.
Given the massive impact this crisis is already having on the economy worldwide, there is an urgent need to reimagine how MSMEs — which account for 90 percent of all businesses, a majority of the world's jobs, and 50 percent of GDP— buy, sell and operate.
The opportunity: A microbusiness-led shift to digital
Evidence from China, Peru, Brazil, India, Mexico, Colombia, and the United States shows that demand for delivery services and e-commerce is increasing as people under stay-at-home orders have no other choice but to shop, order, and pay digitally. This pandemic will change customer behavior in many ways, and this trend of increased demand for delivery services and e-commerce will likely be sustained even after lockdowns lift. In China, even though the country emerged from lockdown in late March, consumers are still trying to avoid public spaces. For every open storefront, another one remains shuttered — despite the fact that many businesses have been allowed to resume. Just as the SARS pandemic jump-started China's e-commerce sector in the early 2000s, the COVID-19 experience will change the way consumers behave, making every aspect of our lives even more digital.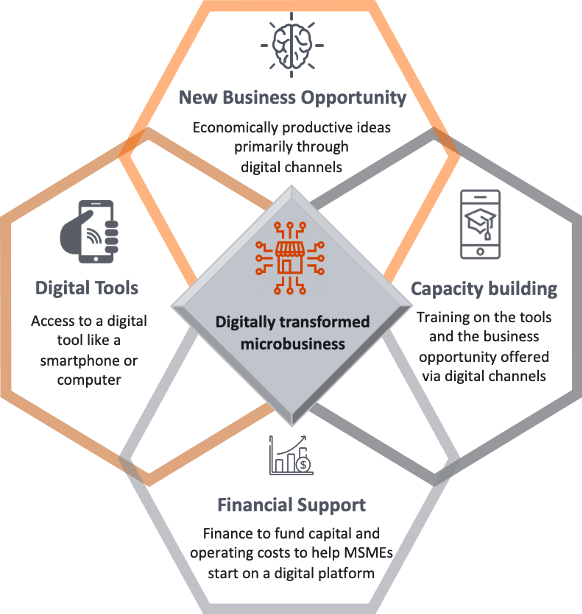 As digital platforms become more pervasive, accessible, and affordable, MSMEs can leverage digital tools and products to rebuild and relaunch their businesses. This digital transformation of MSMEs is already starting to happen in some countries. In India industry players, such as Facebook and Reliance Jio, are moving to offer seamless digital services to these businesses and their clients, including digital payments. As a part of this deal, Reliance Jio has partnered with WhatsApp, a Facebook company, to expand the reach of its e-commerce platform JioMart to small businesses.
To digitally transform a microbusiness, a multi-dimensional, collaborative approach is required: online platforms that can offer digitally enabled business opportunities, financial service providers that can provide relevant financial products to MSMEs wanting to take advantage of these opportunities, and training for MSMEs to leverage new tools, finance, and platforms.
Digitally enabled business opportunities are becoming more pervasive
Beyond enabling digital payment acceptance, digital platforms open a broad range of other opportunities for businesses. For example, MSMEs can leverage e-commerce platforms to buy and sell online to a wider audience, link to package distribution networks by using their homes or businesses as drop-off points, enable remote order fulfillment, participate in buying clubs, integrate into agricultural and fast-moving consumer goods (FMCG) supply chains, and more.
We're seeing examples around the world of how other actors are also coming together to build a digital ecosystem for MSMEs. Private enterprises like Unilever and Google are collaborating with governments and other major corporations to provide aid. The government of Peru is building easy-to-use digital payments to bring government aid directly to MSMEs. Fintechs in Mexico are bringing additional funding to MSMEs and supporting supply chains for critical goods and food. And ride-hailing apps in Indonesia are helping deliver essentials to consumers and businesses.
Financial service providers can build a digital on-ramp for their clients
Financial service providers (FSPs) can help the MSMEs they already serve through partnerships with platform providers. Through these partnerships, FSPs can connect their clients to revenue-generating opportunities on these platforms. For financial service providers, the benefit lies in having their digitally productive customers generate data through normal transactional behavior. This will allow FSPs to adjust risk models and processes to provide meaningful financial services in a sustainable manner.
In some cases, to enable MSMEs to take advantage of these new digital opportunities, a financial product — such as a working capital grant from a government or a loan from a financial service provider — may be needed to cover the initial operating and capital costs of the change in business model.
Capacity building is key to success
For small businesses to succeed in a digital world, they need to have the right training to use digital tools, understand the opportunity to improve sales and efficiency, and be able to track records like sales, purchases, invoices, and receipts. Training needs to be offered in easy-to-consume modules that are delivered remotely — like within a mobile app — and are in the language the business owner can understand. Accion's Ovante platform, a digital module-based course, helps entrepreneurs develop their business skills and get comfortable using digital tools.
Making an impact, together
Each of these elements will have an impact if offered independently, but if offered collectively by partners working together, they will create a digital ecosystem: one that could potentially enable MSMEs to increase revenues up to 40 percent initially. An effective digital ecosystem can increase operational efficiency by automating tasks and boosting customer engagement through faster service.
This model will empower, enrich, and uplift MSMEs globally. Most importantly, the digital transformation of MSMEs will help ensure the survival of over 350 million microbusinesses, who support the livelihoods of nearly 3 billion people in households around the world.
We are engaging with e-commerce platforms, fast-moving consumer goods companies, governments, and financial service providers to develop a holistic solution to accelerate the digital transformation of MSMEs. To learn more about the benefits and challenges of connecting microenterprises globally to the digital economy, join us on Wednesday, May 20 for our webinar, Going digital: An essential move for MSMEs in a post COVID-19 world.