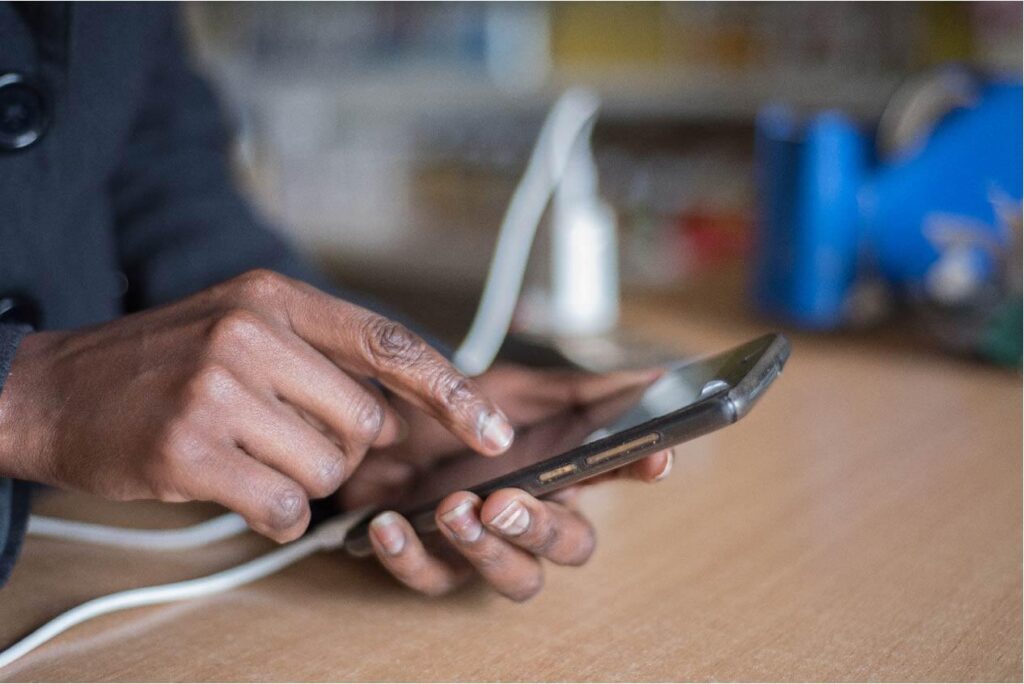 Accion's partners have always used innovative approaches to bring financial inclusion to underserved people and businesses in emerging economies. The coronavirus pandemic has put their spirit of innovation to the test as they must find new ways to continue serving clients while protecting their wellbeing and that of their employees.
We're sharing examples of adaption from our partners around the globe that we hope will be helpful for all organizations to keep in mind when considering client and staff safety and business continuity during a time of constant changes.
1. Ensure staff has the equipment and education to do their jobs safely.
Our partner Field Intelligence is a startup operating in Nigeria and Kenya that uses data-driven supply chain management software and highly efficient distribution service to help pharmacies operate more efficiently. Their pharmacy clients remained open throughout the pandemic to provide necessary services in their communities. As a preemptive measure, Field Intelligence completed a handwashing and safety campaign to encourage 150 pharmacies to use safe practices that prevent the spread of the virus. They also supplied and trained all of their delivery staff on proper personal protective equipment usage. By tapping into their existing network, they were able to quickly provide training to their staff. These steps were critical for keeping essential workers safe over the past few months. As many countries begin to reopen and ease restrictions, businesses should prioritize safety above all else and provide the training and equipment that staff and clients need.
2. Enable staff to provide customer support remotely.
Apollo Agriculture, another startup in Kenya, partners with small-scale farmers to help them access everything they need to maximize their profitability, from financing and insurance to farming products and optimized advice. These farmers are facing great challenges during the pandemic and Apollo empowers them to be productive and sustainable. To continue providing customer support to farmers, Apollo faced a major challenge: transitioning their call center of over 150 people to remote work. Most of their call center agents did not previously have internet or a computer in their home. Despite these challenges, Apollo successfully transitioned the entire team to remote operation and equipped all staff with reliable internet in a matter of days — all during their busiest time of year and the COVID-19 crisis. As remote work may continue for some time, staff need to be fully equipped to work remotely to make these solutions sustainable in the long-term.
3. Innovate to meet customer's needs digitally.
In Bolivia, BancoSol — a regulated commercial bank dedicated to serving micro and small entrepreneurs — knew that their customers needed urgent services to stay afloat during the pandemic and that digital tools would be crucial for reaching them. BancoSol launched a pilot of a remote lending program and is also working on revamping their existing mobile application to serve more clients digitally. Additionally, tellers are encouraging clients to sign up for online banking services and begin using them to minimize face-to-face contact and continue to be able to manage their businesses and connect with customer service representatives. So far, results from BancoSol's initiative have been encouraging — in the first ten days of their efforts, online transactions increased by five percent, and transactions have continued to rise since then.
4. Make a plan to keep your team safe and productive in the long-term.
As China has reopened its economy and more people have returned to work, conversations with our partner Grassland Finance Limited have given us a glimpse into what many of our other partners may experience in the coming weeks and months. Grassland shared with us that their staff is:
Practicing social distancing in the office. Staff continue to work in shifts and will do so until the situation improves.
Wearing protective masks and regularly monitoring for symptoms to ensure those coming into the office are healthy.
Avoiding in-person team activities and unnecessary travel.
For Grassland and other partners, the need to increase digital capacity to adapt to immediate challenges and to move into a new normal is a key theme. Seah Hooi Koon, Grassland's COO, shared, "The disaster also showed again the importance of building up the digital capability of both our company and of our clients, and this will be key in our strategy going forward."
Digital capability, adaptability, and a spirit of innovation will continue to guide companies forward as the situation evolves around the globe. At Accion, we will continue to stay in close contact with our partners to learn from them as they adapt and to provide resources to help them increase digital capabilities, keep staff safe, and continue to serve their clients.