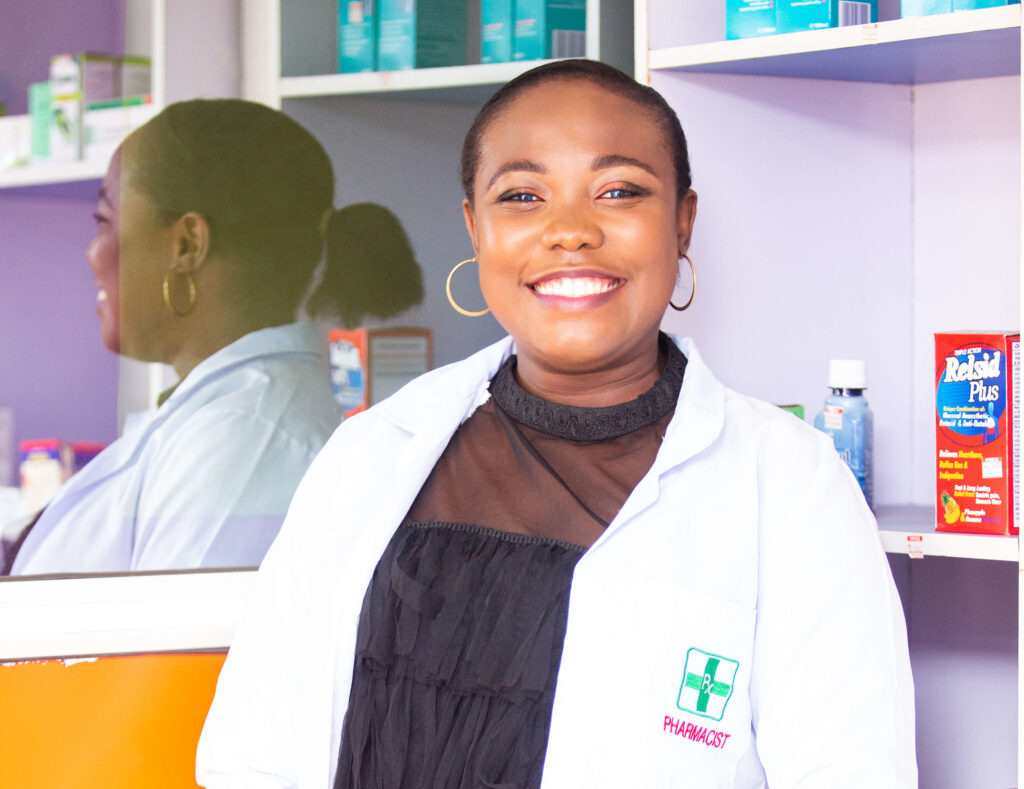 When people have access to the healthcare they need, their quality of life improves, they are better equipped to tackle challenges, and they are more prepared to seize opportunities to build a better future for themselves and their families. Pharmacies play a critical role in their communities by providing people with the medicine, vitamins, and other essentials that improve their well-being. But community pharmacies can be overwhelmed by the same problems that other small businesses face: unpredictable demand, difficulty tracking inventory, and cash flow constraints when stocking their shelves. The COVID-19 pandemic has exacerbated all of these problems. Field Intelligence, a startup operating in Nigeria and Kenya and a part of Accion Venture Lab's portfolio, is addressing these challenges for pharmacists so that they can concentrate on treating their patients.
Getting vital prescriptions onto pharmacy shelves
Field uses a combination of data-driven supply chain management software and delivery services to supply community pharmacies in Kenya and Nigeria with the right products at the right time. These pharmacies use Shelf Life, Field's pay-as-you-go subscription service, to order medicine and other products for their shelves. Because Field doesn't require Shelf Life users to pay for goods until after they've sold them, pharmacists don't have to worry about securing cash upfront to order what their patients need. Ijeoma Cynthia Uzor of Arrow Aid Pharmacy in Lagos describes her experience with Shelf Life, saying, "A lot has changed with Shelf Life compared to my other suppliers. Like the cost of procurement has actually reduced because I do not stress myself trying to raise money to buy the products before I sell."
Shelf Life also helps pharmacies cut costs by tracking the expiration dates of the prescriptions that they already have in stock. Rather than take a loss from these drugs if they expire before they can be sold, Field Intelligence takes them back without charging pharmacies. "Once you notice that drugs are approaching expiration date, you notify them, and they come and take them away. That's another beautiful benefit you are getting from Shelf Life," explains Ikechukwu Okwor, owner of Peak Choice Pharmacy in Mararaba, Nigeria. Ikechukwu saved 6.7 million naira in working capital in the first nine months of using Shelf Life to manage his inventory and avoided losses from expired medications.
Being able to pay as inventory is sold and avoid lost revenue from expired goods is especially helpful during the pandemic, when shifting customer demand has created a cash crunch for local businesses around the world. Pharmacies can keep up with the fluctuations in demand for what community members need without having to pay upfront to do so. ''The pandemic has added an urgency to the need for a rethink of operational tools and business capabilities available to community pharmacies, and we are at the fore of providing services to achieve this," says Suleman Sule, Country General Manager and Pharmacy Director of Shelf Life Nigeria.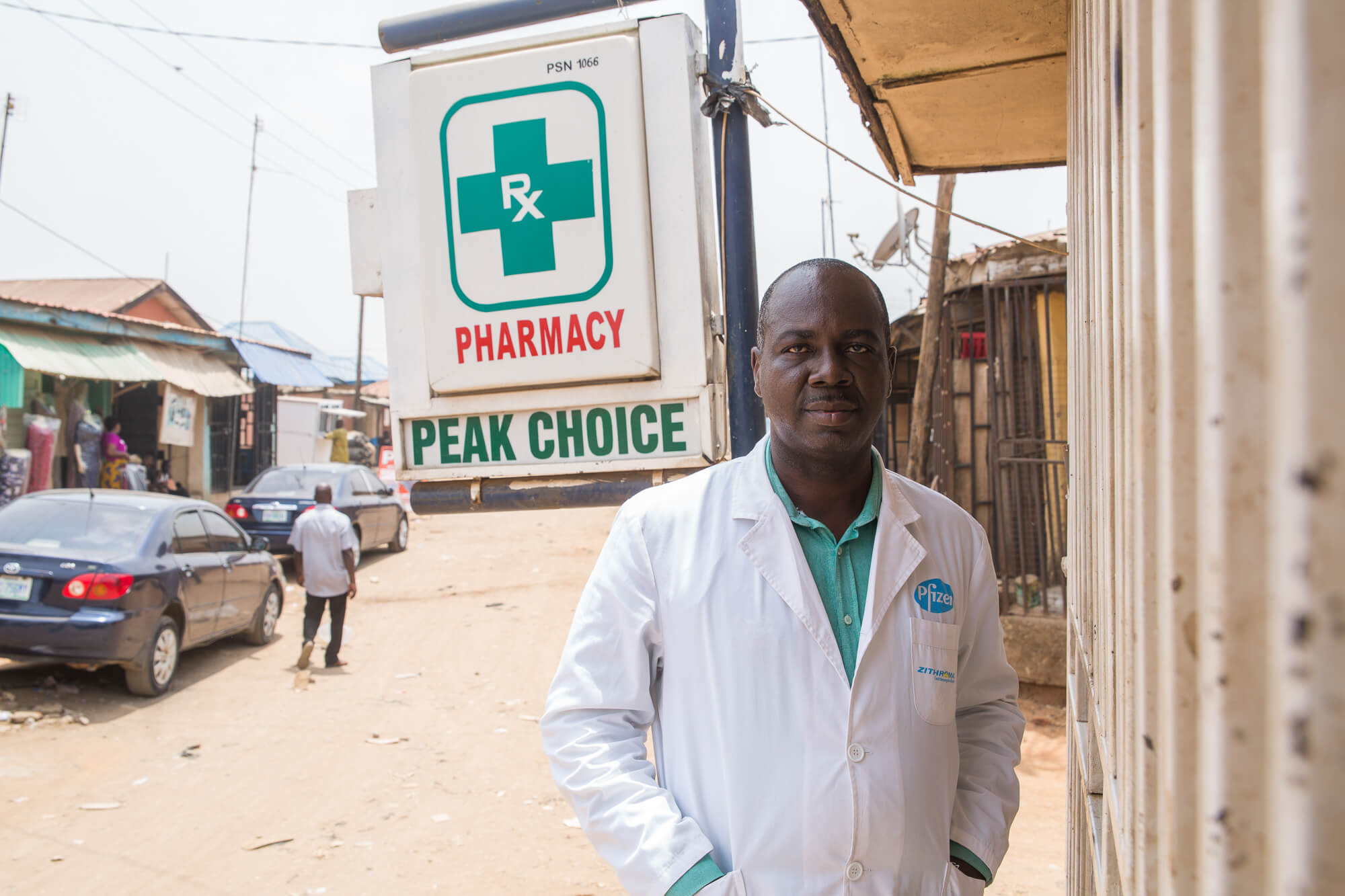 Keeping pharmacies open during the pandemic
Pharmacies are playing a critical role on the frontlines of the pandemic. Not only do they give communities access to the medicines and health products they need, but they also reduce the number of unnecessary doctor and hospital visits which lessens the burden on overwhelmed healthcare systems. Making sure pharmacies can provide for communities is essential, but they're facing many challenges during this time.
On top of changing customer demands, the pandemic has created new disruptions in global supply chains, especially those related to medical supplies. Field Intelligence is actively recommending product substitutions when available so that their clients can stock alternatives for supplies that have become scarce. "This has been especially useful as we see an increase in demand for products these community pharmacies do not usually serve, like rapid diagnostics test kits, simple medical devices for homecare, personal protective equipments, personal hygiene products that are of great need during this period," says Ajiffa Labor, Country Manager and Pharmacy Director of Shelf Life Kenya. Field Intelligence has also temporarily migrated as many clients as possible to longer supply periods to bolster inventories and reduce the amount of human contact that more frequent delivery schedules require.
Beyond continuing to supply pharmacies during these disruptions, Field Intelligence has taken other steps to support their clients during this time. When the coronavirus outbreak escalated in March, they rolled out an infection prevention campaign where they distributed handwashing stations and educational posters to over 150 pharmacies in under a week. They also began sending weekly newsletters to share guidance for pharmacies and updates on supply availability in the market and viable substitutes for products whose supply chains had been affected.
Whether or not a community is facing a public health emergency, pharmacies need to provide their patients with the medications they need to stay healthy. When pharmacists have a tool like Shelf Life that helps them operate their business more efficiently, they can be even more effective for the people that rely on them and better prepared to endure unexpected challenges.