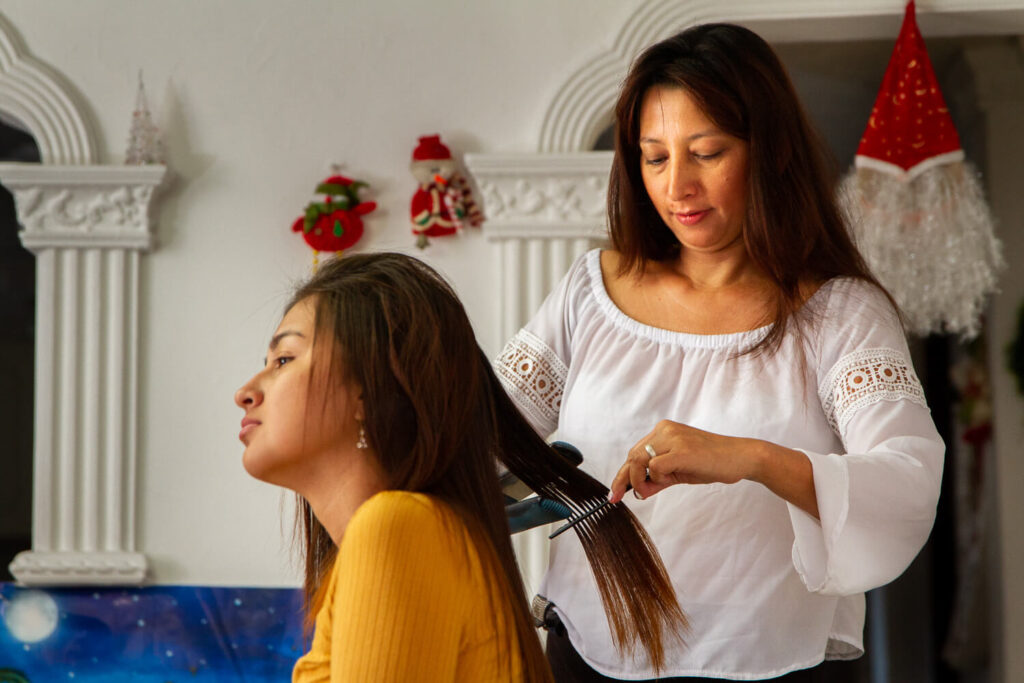 Maria Pico established her hairstyling business in Bucaramanga, Colombia, when she was 25. Today, a decade later, she finds herself wearing multiple hats — as an entrepreneur who is brimming with enthusiasm to grow her hair salon and as a mother who is eager to provide a comfortable life to her daughter.
Over the years, Maria has built a loyal customer base and is usually booked with appointments. Nevertheless, she recently realized that growth was stagnating but wasn't sure what she could do to take her business to the next level. While Maria had access to financial products that could help her invest in the business, as well as access to the internet to educate herself, she did not have the skills and training needed to effectively leverage these resources to boost the growth of her business. Maria's case represents the plight of many micro-entrepreneurs whose aspirations are constrained by their lack of confidence in tools that can accelerate business growth. When Maria learned about Ovante, Accion's fully digital and interactive business education program developed with support from FedEx, she knew it was for her.
Ovante's platform helps microbusiness owners learn critical business and financial concepts. They learn how to make smart decisions with their money, protect their businesses, and calculate their earnings, all while becoming more digitally savvy. Maria has learned how to better manage appointments, maintain budgets, track customer visits, and expand her customer base. Overall, the key lessons Ovante seeks to build are to:  
Drive

sustained business growth:

Businesses have several cash flow

sources,

but these rarely become

the

income

–

generation source

that

business owners

need to improve their lives

.

Ovante

walks

users through a step

–

by

–

step process to learn how to assess their business

profitability and what

to do

to improve it.




Plan for the long-term

: Most

microentrepreneurs

have a daily or weekly

plan for their businesses

,

but

fewer

have a longer-term vision for the month or

the year.

This impedes the

ir ability

to make better us

e

of working capital loans

or

invest in inventory.

Ovante

helps them to review their money management habits

and highlights

how they could improve their business performance by

setting longer-term goals and changing their behaviors to be more long-term oriented.




Manag

e

time

and

become more efficient

:

Business owners deal with

an un

ending list of things to complete

within a

short time frame

.

They often find their business performance diminishing

due to time constraints

.

Ovante

helps users to

manage their tim

e

better and provides recommendations of practices that could help them to be more productive and successful in their business

es

.




Branding and marketing through

non-traditional channels

:

Most microentrepreneurs

use traditional channels

like

word of mouth to expand their client base.

Ovante

h

elps

users

learn how to apply tools like social media marketing and branding to grow their customer base

s

— crucial factors for busine

s

s

es

like Maria

's.

For instance, M

icroentrepre

neurs le

ar

n

how to

start

a Facebook

page for their business

,

throu

g

h which

they

can conveniently

market

their

products and services

.
Ovante uses interactive tools, including videos and techniques like gamification, to build users' business capabilities. When her salon is quiet, or after locking up for the day and completing her household chores, Maria often finds a quiet corner to revisit and complete Ovante's modules on her computer or cell phone. Ovante is enabling micro-entrepreneurs in Latin America to learn essential business skills from the comfort of their homes and apply the lessons to grow their businesses. Individuals who earlier struggled to use technology are increasingly becoming digitally savvy. According to reports collected by Accion's technology provider Colnodo, nearly 92 percent of Ovante users say that it is their first time using a digital platform.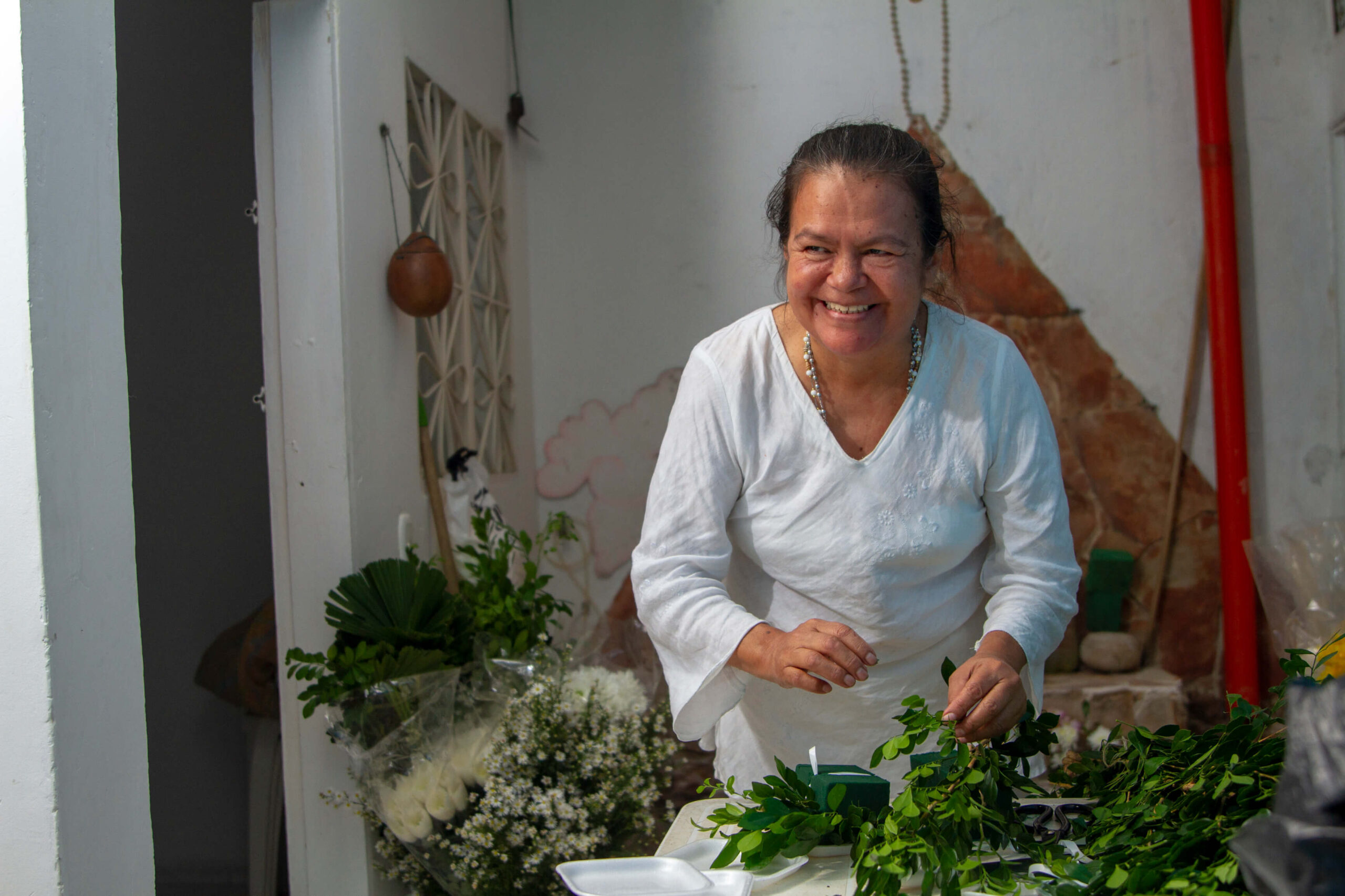 Another entrepreneur, Margarita Viviescas, has worked as a florist, dressmaker, event designer, and masseuse for more than 20 years. Until she started using Ovante, Margarita's exposure to digital technology was largely limited to using her smartphone to make phone calls and send text messages. By empowering Margarita to access information and improve her business in real-time, Ovante is providing her with exposure to digital technology. In discussing why flexibility matters to her, Margarita exclaimed, "I think it is very helpful that Ovante is digital because you can use it anywhere! It also solves the problem of limited availability of time because there is no set time to use this platform, which makes it more convenient to use."
Ovante helps thousands of entrepreneurs like Maria and Margarita, who face a myriad of business and household responsibilities, to better manage their lives. As of December 2019, Ovante has reached more than 15,050 low-income entrepreneurs, of which 81 percent are women. Recently, Ovante was selected as a winner of the World Summit Awards (WSA) in the category of learning and education for 2019. The WSA is a unique awards system, selecting and promoting local digital innovation which contributes to the achievement of the UN Sustainable Development Goals. It is an international platform for cutting edge examples of how Information and Communication Technology can positively affect communities, and only 40 solutions from 25 countries earned an award. 
Over the next 18 months, Accion plans to scale Ovante to multiple countries across Latin America and markets like India, where Accion has a significant local presence. As we continue to drive Ovante's expansion, we hope that end-users will continue to build their business, financial, and digital capabilities and will further incorporate digital tools into their daily lives and ultimately into their businesses.  
Arisha Salman also contributed to this article.